Sunday Night Jamming at Rehoboth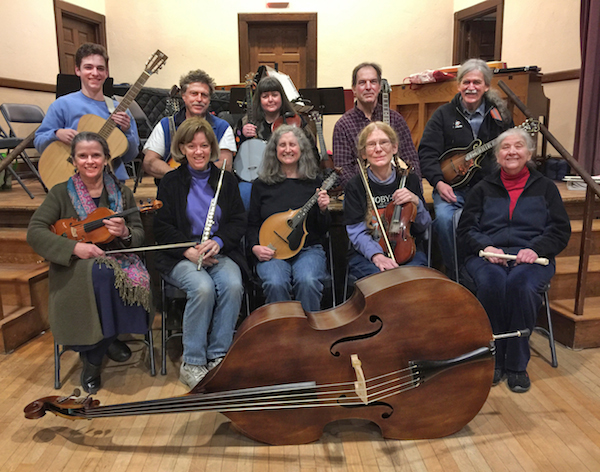 Note: Because of the COVID pandemic, the Sunday jam sessions, including the monthly dances, hosted by the Sunday Night Jammers are currently on hiatus. We all hope to be able to continue them sometime in the future when conditions change.
Note: The following information is applicable when the weekly sessions occur.
The dance music jam sessions continue in Rehoboth every Sunday night from 7-9 p.m. All are welcome!
Once a month throughout the year, the session is a Community Dance, at which we teach everything that needs teaching, depending on the experience of the dancers. The Community Dances go from 7 to 9 p.m. and are preceded by a potluck at 6 p.m.
The 2019 fall and early winter dances will be held on January 26, February 23, March 15, and April 19. All Jammers dances are held on Sunday nights from 7 to 9 with a potluck at 6 p.m. except for the dance on December 31 which is from 8pm to midnight with a dessert potluck.
For information or to check about cancellations, call or text Bob Elliott at 774-644-1369.
The Sunday Night Jammers are a group of (mostly) instrumental (mostly) musicians, who play (mostly) Celtic-inspired dance music. Our music is (mostly) for couple dances, such as waltzes, hambos, polkas, and schottisches.
Now, to clear up those "mostly"s:
1) Sometimes we sing...or at least some of us sing.
2) Some of us are very serious musicians, some are duffers, many are in between. We are VERY polite about each other's errors.
3) We started with English, Scottish, Irish, Canadian, and New England dance music, but we have gotten more international as the months go by.
4) After Scandinavian and German couple dances, a few Israeli line dances appeared, followed by some Greek and Balkan dances with "interesting" time signatures.
In brief, all of us have learned a lot, and we welcome others to come play, teach, learn, and, in general, have fun!
You can read more about us in this article from EastBayRI.com.
Flyer for the Jammer evenings (pdf file)
Return to the Rehoboth Contra Dance web site.
---
http://www.contradancelinks.com/jammers.html
Produced by Charlie Seelig based on information supplied by the Rehoboth flyer.
Last updated on October 3, 2020